For those who don't know, WIP stands for "work in progress". My most recent and largest WIP is a queen size blanket made from scrap yarn. Well, scrap yarn and yarn I bought but never used. I started this blanket last Wednesday and it is actually what inspired me to start this blog.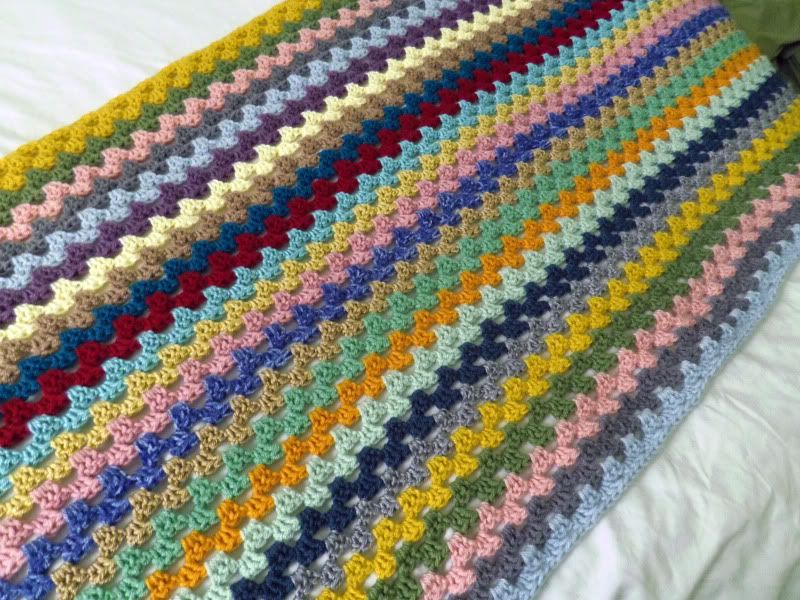 So far I'm a bit unimpressed with it. The colors don't really go together, which I guess is to be expected when your selection is made based on the fact that you're not using them. I'm in a bit of a dilemma also because some yarn is running out before others and the OCD in me can't let the stripes be uneven... But if I go buy yarn to even it out, it's really defeating the purpose.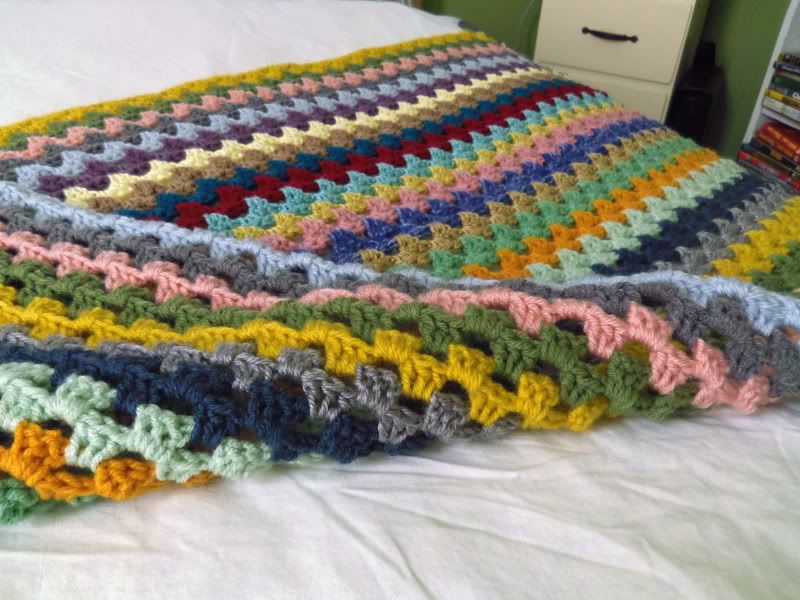 The "granny stripe" is exactly like a granny square, just done back and forth instead of round and round. It's a pretty straight forward pattern, but I'll tell you how I'm doing mine. I'm using the 'J' hook, even though not all the yarn is that size. I started with a chain that was about 199, but it was one too many so maybe start with 198. then I turned, skipped one and then did a single stitch all the way back. Next, turn and chain three, do a double crochet into the base of your three chains and then chain one more. Skip three stitches and double crochet three times into one stitch and then chain one. Repeat till the end except in the last one, only double crochet twice. Turn and chain four. Next you'll be grouping your double crochets into the space between the last ones instead of actually into a stitch and when you get to the end of the row you'll only double crochet once.
That's it, you just repeat the last two rows till you get to the end, which I haven't done yet. I suspect I will finish it off with a row of single crochets and then put a border on it. Next time I write about this blanket I'll try to have a proper pattern for you. Now let's take a minute to talk about the number one thing I absolutely HATE about crocheting: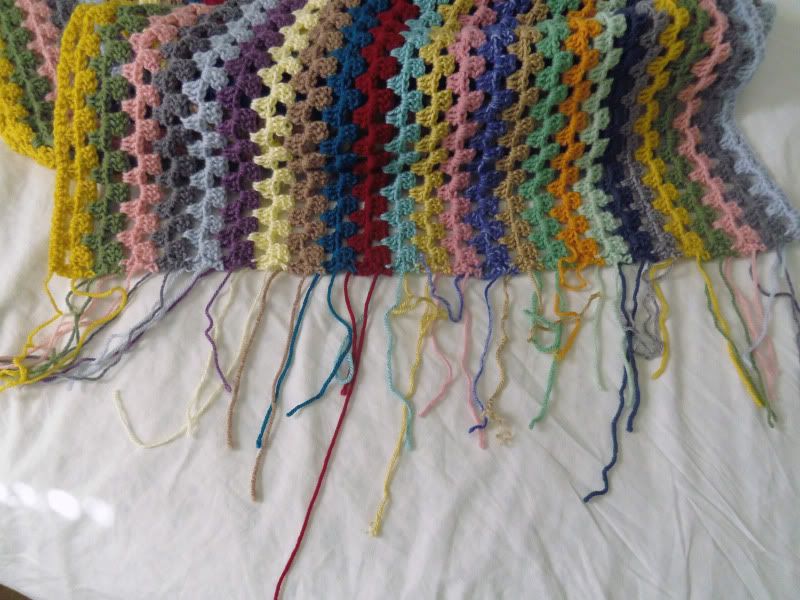 I hate the ends! Stupid, little, dangley things that take forever to weave in and get rid of! I try to avoid stripes because I hate this step so much, which is a shame because I actually love stripes. If anyone has some tips about these, I would love to hear them.
That's all for now, see you Friday!
-merely